Discover the new article by Ghislain Trullenque and Olivier Pourret, respectively Associate Professor in Structural Geology & Geothermal Energy and Associate Professor in Geochemistry & Head of Scientific Integrity and Open Science for The Conversation.
On February 14, 2023, the European Parliament voted to end the production of thermal vehicles by 2035 for the inhabitants of European Union member countries. In practice, this means that sales of new petrol and diesel cars and light commercial vehicles in the EU will cease by that date, as well as hybrids (petrol-electric), in favour of 100% electric vehicles.
This decision is part of a broader pattern of use of electric vehicles. For example, according to the International Energy Agency (IEA), there will be about 2 billion electric vehicles on the road by 2050, up from 10 million in 2022 (with a projected +35% in 2023 to 14 million).
This increase in the number of electric vehicles will logically be accompanied by a growing need for batteries, and therefore for their components, such as lithium. As the usual operations are already under pressure, could geothermal brines become an essential source of supply for the European lithium industry?
Lithium, an economic issue in the process of becoming scarce
Lithium is one of the key components of electric vehicle batteries. In 2022, lithium was present in nearly 90% of batteries: lithium-nickel-manganese-cobalt (LNMC) batteries accounted for 60% of the market, followed by lithium-iron-phosphate (LFP) batteries with a share of just under 30%. About 60% of lithium demand was thus for electric vehicle batteries, up from about 15% in 2017.
In the face of this growing demand, the global supply of lithium is under severe strain. In 2021 and 2022, demand thus exceeded supply, despite the 180% increase in production since 2017. According to the IEA, the world could therefore face lithium shortages by 2025.
In response to these changes, the global lithium market is under intense scrutiny from speculators, automakers and battery manufacturers as they attempt to secure their supplies as well as their margins.
The price of lithium carbonate (refined lithium) increased sixfold between August 2021 and November 2022, and the price of spodumene crystals (a lithium-bearing mineral) increased even more during the same period.
Global consumption has increased by more than 280% between 2010 and 2021. The price per ton has risen from less than 5,000 euros in 2012 to more than 85,000 euros in November 2022, before falling back to just over 50,000 euros since March.
Lithium is thus one of the so-called strategic metals. France has even made it a priority in terms of economic sovereignty.
The challenges of lithium supply
Lithium mining takes place mainly in brine-type deposits, such as the salars of the Andean plateau in the lithium triangle, or by conventional mining in spodumene-rich pegmatites, as in Australia.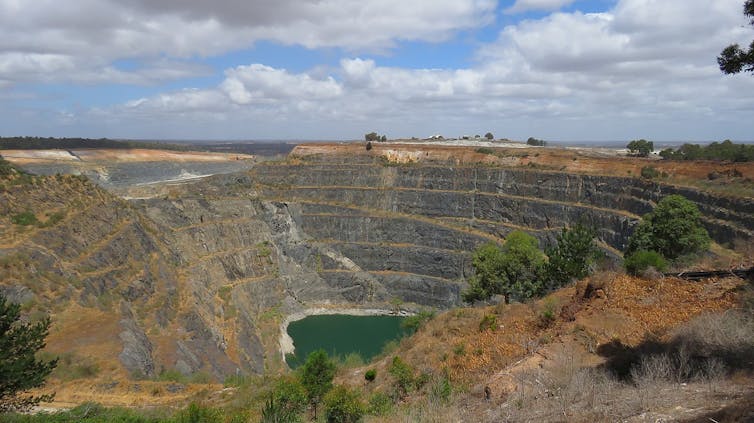 The Greenbushes mine in Australia represents a major lithium deposit.
Most of the world's lithium reserves are in Bolivia (21 million tonnes), Argentina (19 million tonnes), Chile (9.8 million tonnes), Australia (7.3 million tonnes) and China (5.1 million tonnes).
This concentration of the resource in a few points of the globe makes Europe dependent on the producing countries, both in terms of supply and the cost of this raw material.
In addition to this economic aspect, it is important to note that the exploitation of salars is an ecological aberration, which requires pumping water deep into the ground and letting it evaporate. And this, in regions that are already under great water stress. The pumping, the addition of chemical additives and the earthworks necessary for the decantation basins disfigure landscapes with a high potential for tourism and destroy particularly vulnerable ecosystems that are unique in the world.
The impact of quarrying is also very significant, and can be accompanied by major pollution, as is also the case for other metals.
The European supply of lithium is thus faced with many challenges. Some are linked to the strong growth in demand, others to ecological and health constraints, and others to the concentration of resources outside Europe.
Geothermal energy, a new source of lithium supply
High concentrations of lithium have recently been discovered in some brines from European geothermal operations, suggesting a new source of supply.
Geothermal energy consists of capturing the earth's heat and using it directly. It can thus provide heat on different scales, from individual homes to agglomeration heating networks, including the agri-food industry. When the temperature and flow rate are sufficient, the heat can also be converted into electrical energy and fed into the national grid.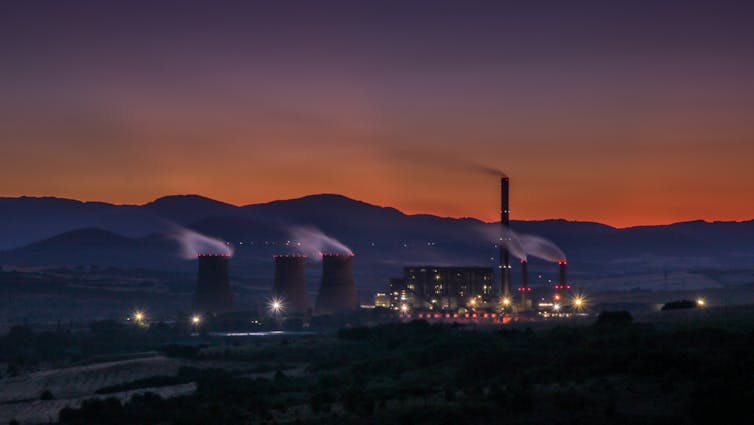 The geothermal plant in Golemo Selo, Bulgaria.
Viktor Kiryanov/Unsplash, CC BY
Among the various possible geothermal exploitation techniques, geothermal energy by reservoir stimulation (EGS, Enhanced Geothermal Systems) allows naturally superheated fluids, present at great depth, to be brought to the surface through a first drilling (called a production well). These fluids are then injected into their original level through a second well (called an injector well).
These famous fluids are brines, the chemistry of which is not modified in any way, but from which only the heat is extracted today. However, depending on the geological terrain in which they are collected, they may contain dissolved lithium. As the fluid has already been brought to the surface for geothermal purposes, all that remains to be done is to extract the precious metal: two birds with one stone, heat and lithium.
Moreover, Europe is rich in geological terrains favorable to these lithium-rich brines, which could lead to a more local production and supply, and less dependent on foreign countries or companies.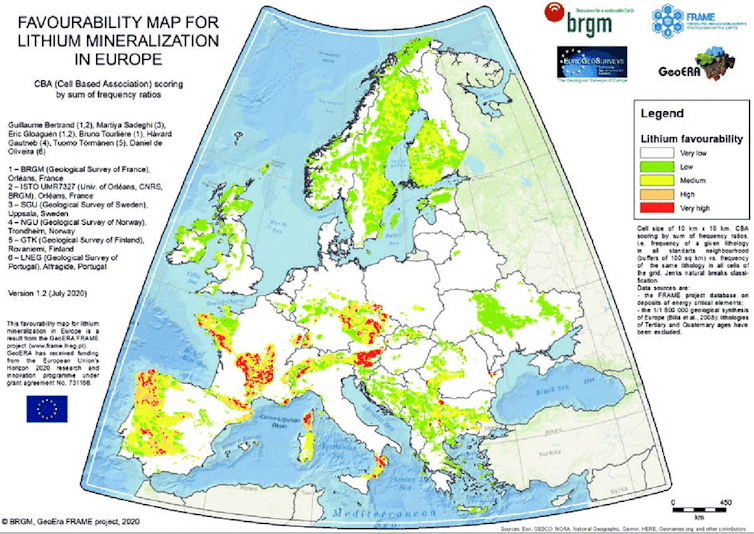 Map of lithium exploitation favorability in Europe, from none (white) to very favorable (red).
FRAME project/Geological Survey of Sweden
Finally, EGS technology has the advantage of operating in a closed circuit: there is no need to draw water to evaporate it or to disfigure the landscape over hundreds of square kilometers, as is the case for salars or mines.
Towards a development of geothermal energy?
The discovery of lithium-rich geothermal brines could increase the interest of investors and political authorities in the development of geothermal energy. The demand for lithium is such that heat production could even, in the long run, become a side effect of extraction, and no longer the main resource sought.
During the last decade, the European Commission has shown particular interest in the development of deep geothermal energy, especially reservoir stimulation geothermal energy. The exploration and development of EGS systems has been studied in detail by different research and demonstration projects such as IMAGE, DESTRESS, GEMEX and MEET.
Preliminary projects to co-produce lithium and geothermal energy from stimulated reservoirs have demonstrated the technical feasibility of the extraction process, as well as its economic potential.
Much research is now needed to develop this new activity on a European scale. A multidisciplinary approach is required to map the resource in relation to the geological context, determine the mechanical and petrophysical properties of the different types of reservoir, understand the alteration processes of the reservoir rock and the mechanisms of lithium transport and concentration, and develop new high-yield and environmentally friendly extraction techniques.
But beyond these economic considerations, do lithium-ion batteries really deserve such a place in a fuel-free society? That they have changed our society is undeniable, but if nothing is done about the environmental cost of raw metal extraction, recycling and reuse, batteries could well become the next great environmental crisis after the greenhouse effect. With or without geothermal mining.The Conversation
Olivier Pourret, Associate Professor in geochemistry and responsible for scientific integrity and open science, UniLaSalle and Ghislain Trullenque, Associate Professor in structural geology and geothermal energy, UniLaSalle

This article is republished from The Conversation under a Creative Commons license. Read the original article.